FRANCOIS GOS - GLACIER IN THE ALPS
François-Marc-Eugène Gos, the son of Swiss landscape artist Albert Gos, was born in Geneva on November 11, 1880.
He studied at the Ecole des Beaux Arts in Geneva, and worked and studied in both Paris and Munich during the early years of his career.
His landscape paintings were widely exhibited throughout his career, and he also gained fame as a poster designer.
A 
style reminiscent of the "Blaue Reiter" 
This original gouache on paper is entitled Gletsch (Glacier) is a fine example of Gos' later work.
It is painted in a style reminiscent of the "Blaue Reiter" school of German expressionists.
Signed and dated 1950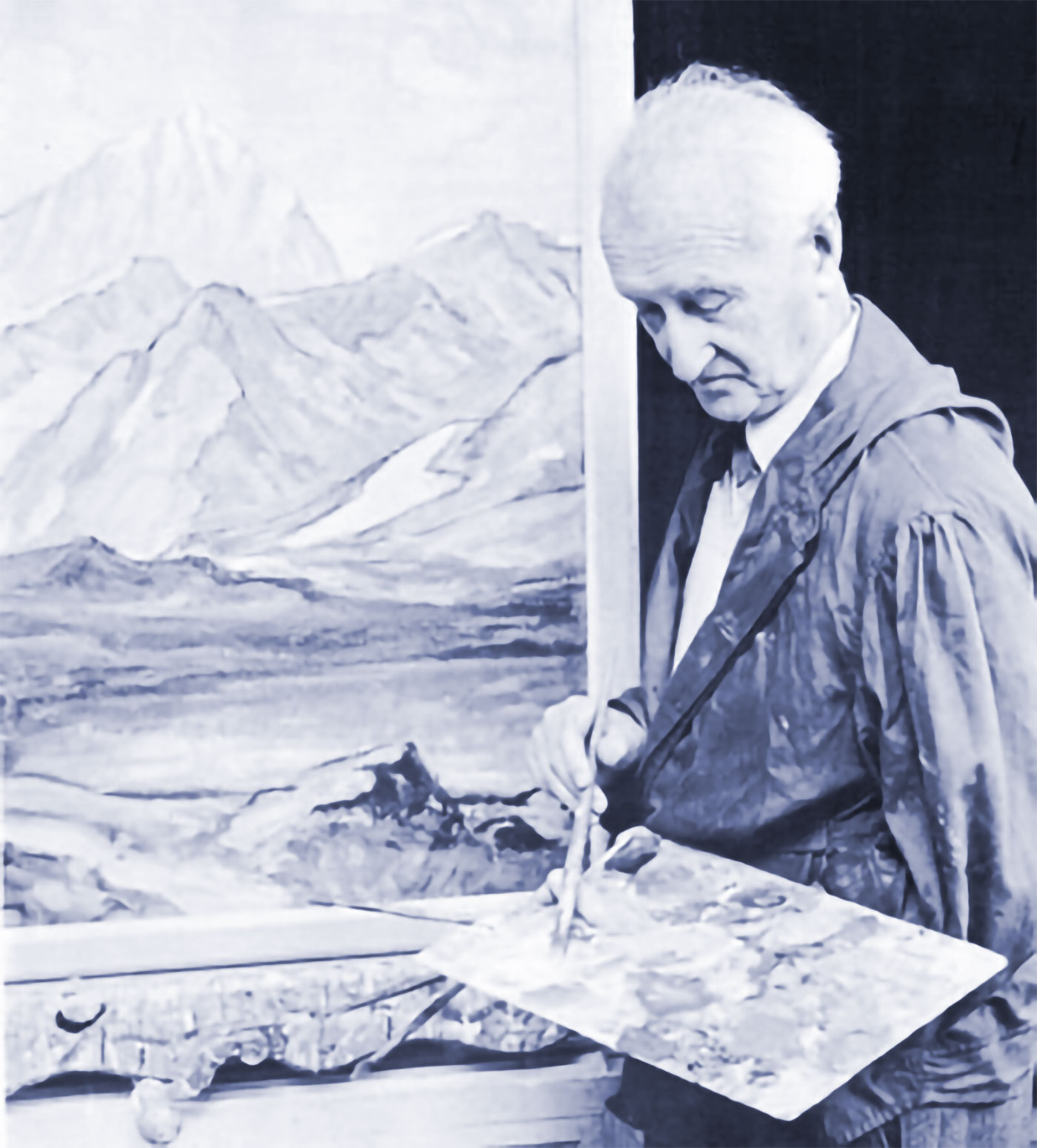 Francois Gos' landscape paintings were widely exhibited throughout his career, and he also gained fame as an designer of posters. Like his father, Albert Gos he was a passionate alpinist, and illustrated several books on the alps including La Flore Alpine Decorative and Zermatt et sa Vallee.  
Francois Gos is listed in the Benezit and other major dictionaries of art, and his works can be found in major Swiss museums.
ALPINE PEAKS
Elegant and exuberant pattern of colors show an alpine lake and cascading glacier in the high alps.  The landscape of Switzerland in all its glory.
joyful colors & brush strokes
Detail of Gletch reveals Francois Gos' embrace of a wide palette of gorgeous color.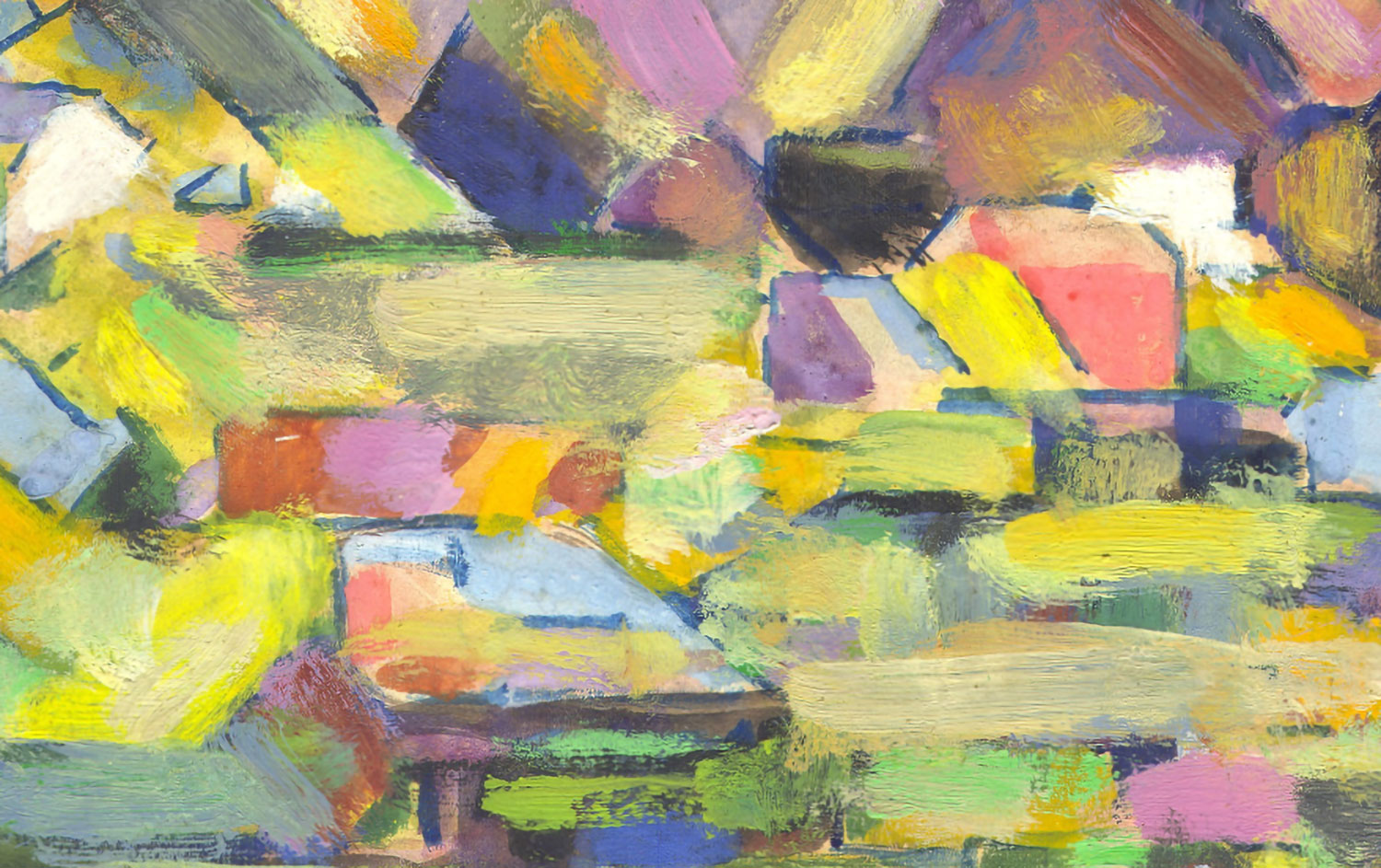 "Francois Gos distinguait et appliquait deux phases essentielles dans sa quête.
D'abord le temps d'arret devant l'object, jusqu'a ce que se produise la subtile et forte identification. 
Ensuite, l'objet et lui s'etant fondus, c'etait l'emission d'une aura de reve pour isoler – peut-etre le protéger – du reste du monde."
MORE FROM THE BLOG
More inspirations from Geneva Notebook
The beautiful Six-Spot Burnet moth is commonly found in meadows and woodland clearings across Switzerland from June to August. The red spots on this day flying moth are a warning to potential predators like birds and lizards that it is poisonous. When attacked it emits a liquid containing cyanide.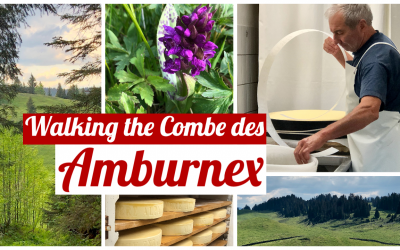 This beautiful easy walk takes you through Jura mountain pastures and forests with a stop at a classic "alpage – a mountain farm where cheese is produced the old fashioned way. It takes around 2.5 hours at an easy pace. 
This beautiful walk along the crest of the Jura beginning at the Col du Marchairuz is one of our favorites.  We last did it during the third week of May when the fields were just bursting with Alpine flowers.  Duration: Two to Three Hours Click below for a full screen...